Turning 18 is a special moment for boys as he has entered into adulthood. As such, it is important to make this occasion memorable and truly exciting experience for him with cool gifts like these.
One of the ways of doing this is by getting him a good birthday gift that he will treasures as he enters a new phase of life.
At 18, it is when most people start figuring out their lives and realizing the direction that they want their lives to take. Generally, turning 18 for your son brings about a great deal of opportunities and responsibilities.
And below are some of the amazing gifts you can give to your son on his 18th birthday.
Buy him an electronic
Almost any 18-year-old son will appreciate an electronic such as a laptop, a tablet, digital camera or smartphone. There are limitless electronics options that you can gift your son on his 18th birthday.
>>> Need ideas? Click here for the best smartphones of 2020 <<<
Nowadays, electronics have become all-important gadgets for teenagers. And the best thing about these electronic gadgets is that they are fairly affordable. You can get an amazing laptop with exciting features for as little as under $500.
>>> Featured: Shop cool laptops/tablets (with good prices) for 2020 <<<
What you should remember when buying an electronic gadget for your son on his 18th birthday is that you should always let him pick the electronic of preference.
You should avoid picking it for him as he may not like it as much as he would like a similar device of different make or model.
Give him some music
If your 18-year-old boy loves music then it might be great to get him a device that he will be using to listen to his favorite music.
For instance, you can get him an iPod and trendy headphones. These music gadgets are fairly affordable as they cost from $60 which is a reasonable amount to spend on your son's birthday.
>>> Get 2020's most trendy headphones at good prices here <<<
IPods come in different colors and features, thereby allowing your son great freedom in choosing his preferred iPod version.
Buy him a car or a classy motorbike
If you are financially well-off or can manage to spare a few thousand dollars, then you can get your son a car or a classy bike on his 18th birthday.
If your son already has a car or you cannot afford one at that time, you can consider giving him other mobility gifts such as a plane or train ticket to travel to another city. That way, he can spend time with distant friends who he rarely sees.
Gift them with experience
An experience gift is nothing more than a lifetime experience such as a tour, a visit or a trip to a place of his choice.
At this age, it is worth noting that friends are uniquely very important and play a tremendously important role in your son's happiness. As such, you can gift him with a trip to a great place with his friends.
There are several experience gifts that you can give to your son including dinners, concert shows, vacations and sporting events among other experiences.
The best thing about this gift is that it is something that he can be able to enjoy with his friends. Therefore, he will find the gift fun and exciting to him as well as his friends.
Cash gifts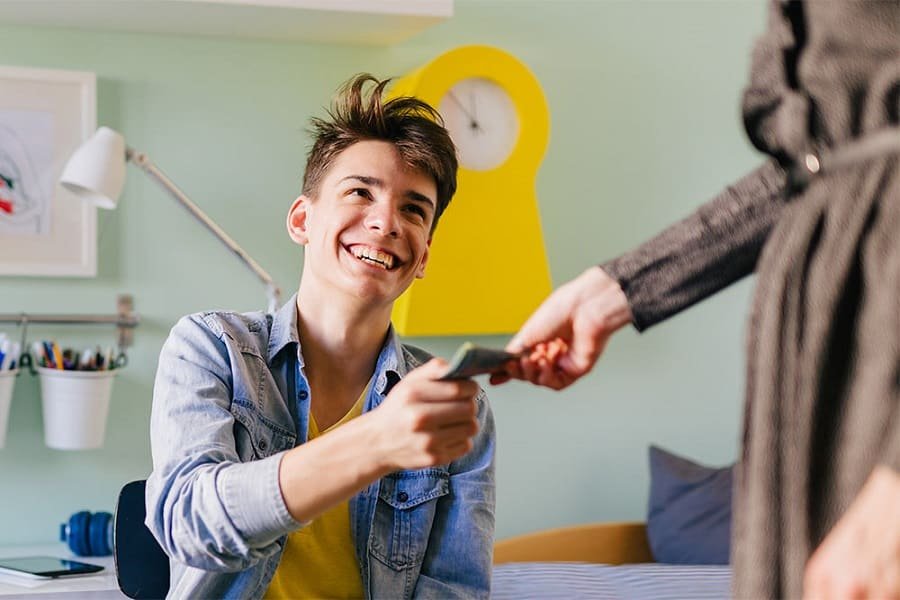 While cash is not top of the list as the number one gift to give your son on his 18th birthday, you can consider giving him some money to spend as he wishes. By 18, teenagers are aware of what they would like to spend on in case they had the money.
Money as a gift to an 18-year-old son comes with great responsibility.
Talk him into spending the money reasonably for buying useful gifts as opposed to damaging and hazardous substances like drugs and alcohol. You should give him a considerable amount of money that he can spend on an item of his liking such as a few hundred dollars.
Wrapping up
A son's 18th birthday is an opportunity to enjoy the milestones that he has achieved in the past 18 years.
Therefore, it is important to make it important and teach him how he will transition into adulthood including the new responsibilities that he will have in his life. While helping him celebrate this achievement, it is advisable to help him find direction in his life.
A son's 18th birthday should be filled with indescribable joy and experiences that he will cherish for the rest of his life.