You know what?
2017 is going to be a year of excellent home designs characterized by high-quality designs and high-end design prowess.
For us, parents, it's our responsibility to make our home the best place possible for the entire family to live in.
There are many bloggers we believe that are going to provide you priceless and valuable information on trending home designs in 2017. These bloggers are a great inspiration. They know their craft inside and out. They walked the walk.
And by learning from them, you can benefit greatly from their experience to design and create the best version of your house possible.​
You might notice that we're missing out on sites like Apartment Therapy and other biggies. But they're left out on purpose. Because we we want to bring you a more "personal touch" so to speak.
Now, in no particular order, let's see who they are and why you should definitely put them on your list of favorite bloggers.​
Best Home Design Blogs & Bloggers to Follow in 2016-20171) Holly from decor8blog.com2) Jordan from ohhappyday.com3) Jessica from design-seeds.com4) Brittany from thehousethatlarsbuilt.com5) Emily from cupcakesandcashmere.com6) Emily from stylebyemilyhenderson.com7) Kate from centsationalgirl.com8) Todd from theselby.com9) Victoria from sfgirlbybay.com10) KariAnne from thistlewoodfarms.com11) Danielle from style-files.com12) Layla from theletteredcottage.net13) Erin from elementsofstyleblog.com14) Marian from missmustardseed.com15) Melissa from theinspiredroom.net16) Jen from cityfarmhouse.com17) Erin from apartment34.com18) Athena from eye-swoon.com19) Kim from savvysouthernstyle.net20) Jennifer from amerrymishapblog.com21) Joni from cotedetexas.blogspot.co.ke22) Jen from lovechicliving.co.uk23) Coco from cococozy.com24) Justina from thejungalow.com25) Casandra from cocokelley.com26) Melina from decoholic.org27) Stacey from quintessenceblog.com28) Melaine from mysweetsavannahblog.com29) Heather from habituallychic.luxury30) Jonathan from happymundane.com31) Kirsten from simplygrove.com32) Kelly from kellyelko.com33) Kate from witanddelight.com34) Kristie from thedecorologist.com35) Emily from decorchick.com36) Paloma from ladolcevitablog.com37) Emily from emilyaclark.com38) Eleni from myparadissi.com39) Sarah from cocolapinedesign.com40) Jacquelyn from jacquelynclark.com41) Holly from theenglishroom.biz42) Carla from carlaaston.com43) Igor from happyinteriorblog.com44) Katie from confessionsofadesigngeek.com45) Daniel from manhattan-nest.com46) Erin from readingmytealeaves.com47) Beth & Kristy from mydesignchic.com48) Gwen from themakerista.com49) Katy from katyelliott.com50) Jenny from littlegreennotebook.com51) Ashley from decorology.blogspot.com52) Helen from designhunter.co.uk53) Stacey from thedesignsheppard.com54) Sarah from sarahsarna.com55) Jeanne from cozystylishchic.com56) Gabrielle from savvyhomeblog.com57) Rohini from thebeatthatmyheartskipped.co.uk58) Holla from becauseitsawesome.blogspot.com59) Dabito from oldbrandnew.com60) Suzanne & Lauren from blog.mcgrath2.com61) Karine from karinecandicekong.com62) Janelle from janellemccullochlibraryofdesign.blogspot.com63) Julie from famillesummerbelle.typepad.com64) Becki from curiousdetails.com65) Jacquin from interiorsbyjacquin.blogspot.comWrapping up0 sharesShare0Tweet0Pin0
Decor8 is a classy blog with an intimate and one-of-a-kind meaningful approach to home design. We like this blog particularly because it provides fantastic and insightful information on achieving world class home design. The magic shared by the blog goes a long way in helping both pro and novice home designers achieve the best designs for their homes.
Our favorite post: http://decor8blog.com/2016/06/14/7-ways-bring-botanical-style-home/​
This decade old blog boasts of over a dozen interior home designers and a slew of artists who provide professional guidance on home design projects. What we find beneficial about Oh Happy Day is its perfect gallery of color mix sets. These sets are designed to provide inspiration to home designers on the best themes to use in decorating their houses.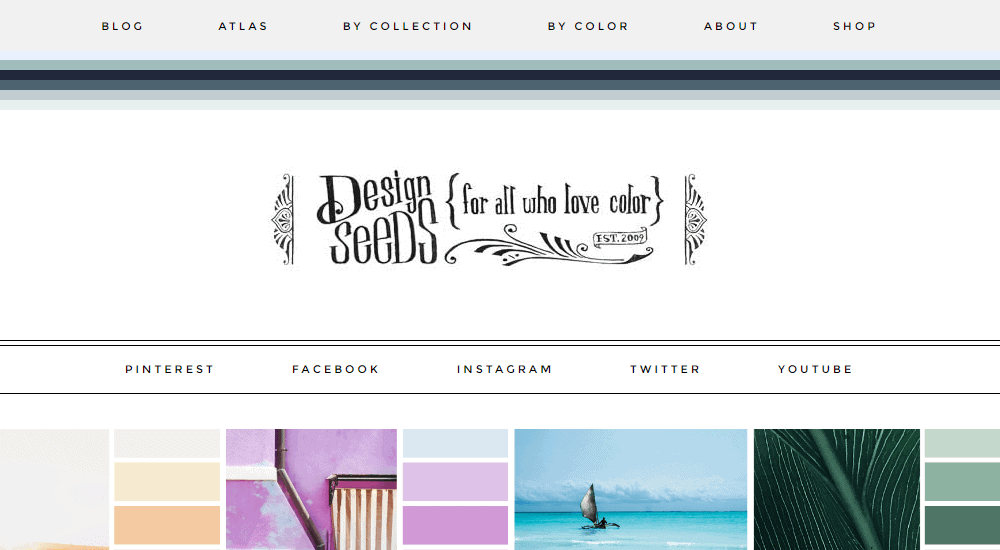 Design Seeds is the ultimate blog for all your home design needs including color mixing choices. With professionally and artistically developed products such as color theme palettes and aesthetic home designs. We are fond of this blog since it provides expert tips, tricks, and guidance on the best home designs to use in decorating your home.
Our favorite post: https://www.design-seeds.com/seasons/summer/color-view-24/
The House Lars Built is one of our favorites because of its amazing collection of inspiring guides, tricks, tips and instructions on home designs. One particular aspect that we really like about this website is how it is neatly organized. The blog collaborates with professional interior designers and artists to deliver some of the best crafted and designed tutorials on high-end home designs.
Our favorite post: http://thehousethatlarsbuilt.com/2016/11/printable-leftovers-tags.html/
The Cupcakes & Cashmere blog is one of our favorite go-to places for home design guides, instructions and information for all home design needs. The blog contains reliable information that can be used to transform a messy entryway into a candidly welcoming entrance with an ambient environment. Our favorite aspect of the blog is in its characteristic looking layout that is effortless to navigate.
Our favorite post: http://cupcakesandcashmere.com/decor/living-room-2
For quite a long time now, Emily Henderson Interior Design blog has been one of our favorite design blogs. We like how the blog keeps its content up-to-date thereby making it extremely reliable and dependable for all home design needs. Top interior design professionals and experts particularly like this blog as it has step-wise guidelines on most interior design projects.
Our favorite post: https://stylebyemilyhenderson.com/blog/new-kitchen-design-plan
If you are looking forward to remodeling your house, then take a look at the Centsational Girl blog. Specially dedicated to home design, the blog boasts of an amazing collection of innovatively developed and creative home design inspirations. From outdoor designs to indoor décor and design, the blog provides dreamy tips on achieving the best of both world.
Our favorite post: http://centsationalgirl.com/2015/08/kitchen-remodel/
We constantly keep checking the selby blog to get ideas on the best holiday decors and themes to use with most home designs. What we are specifically fond of in this exciting blog is the new content that is posted regularly on a daily basis in the blog. Ideally, there is always something new to learn in the blog for all designers; expert and novice ones.
Our favorite post: http://theselby.com/galleries/grant-achatz-chef-and-owner-and-his-staff-at-next-and-alinea-in-chicago/
If you have ever wanted to transform your home in a magical way and without incurring high expenses, then you should check out the SFGirlbyBay blog. The blog trickles our interest in that it provides detailed home design tricks including how to hang art on the wall, arranging furniture, choosing interior space colors & themes, and decorations.
Our favorite post: http://www.sfgirlbybay.com/2016/11/22/green-and-peaceful/
The festive season is fast approaching and there is no where you can get better home design ideas and inspirations than at Thristlewood Farm. The blog mainly focuses on design of vintage homes and other traditional structures to give them a rustic look. Our favorite aspect about the blog is that it features amazing color and theme combinations for both indoors and outdoors.
Our favorite post: http://thistlewoodfarms.com/best-christmas-house-tour-ever/
The Style Files is home to blog posts and articles on cozy home interior designs. All posts in this blog are written and posted by expert writers with tons of experience in home design. We like the blog as it is dedicated to providing simplified guides and tips on how to revamp the design of your home. The blog also highlights on the exclusiveness of color-mixing themes and artwork in decorating interior spaces.
Our favorite post: http://style-files.com/2016/10/06/a-beautiful-farmhouse-in-victoria-australia/
In a few weeks time, the holidays will be here with us and there is no better place to get ideas on designing your home than at the Lettered Cottage blog. This blog is definitely one of the must follow blogs not only in 2017 but also in the years to follow. The home design aspects highlighted in the blog are bound to last as long as you want them to.
Our favorite post: http://theletteredcottage.net/cottage-bathroom-makeover/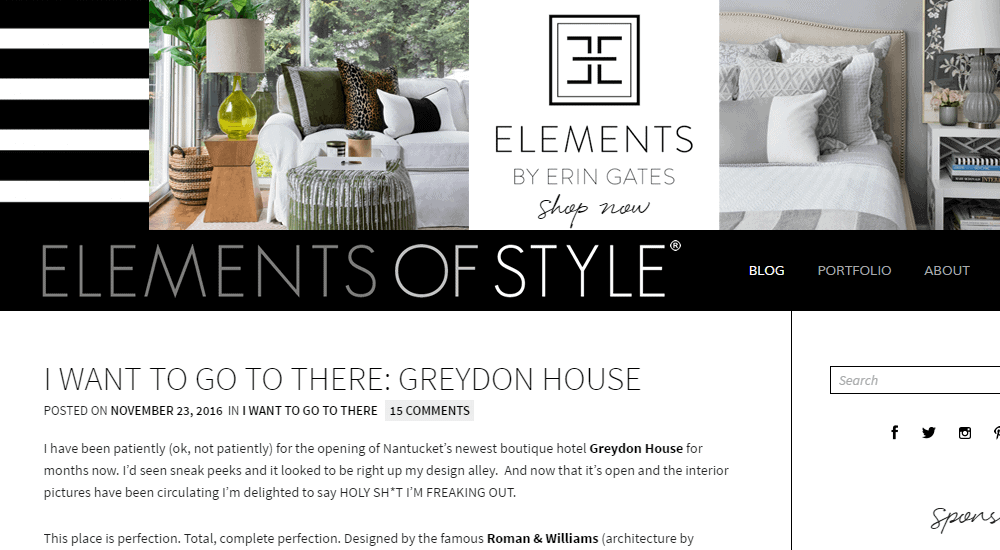 We like the Elements of Style Blog for its comprehensiveness, detailed nature and its well organized layout. The designs and décor aspects posted in the blog are up-to-date and boast of some of the finest qualities in the market. The décor items and fixtures promoted in the blog are sourced from key manufacturers in the interior design sector.
Our favorite post: http://www.elementsofstyleblog.com/2016/11/my-guest-room-refresh-with-crane-canopy-bedding-and-more.html
Miss Mustard Seed is a high quality home design blog with tons of useful and resourceful content on top home designs. The best thing about this blog is that it lists innovatively classic but affordable home design ideas to improve the appearance and looks of your home. These are designs that are guaranteed to give your home a rustic and colorful look.
Our favorite post: http://missmustardseed.com/2014/11/quick-tips-painting-room/
The Inspired Room has continuously been a source of inspiration and motivation for many designers from allover the world. We prefer the blog to other home design blogs for its ability to combine an amazing collection of home design ideas and tips/tricks on how to apply these ideas. The blog also advocates on ways on how to go green with the best home designs.
Our favorite post: http://theinspiredroom.net/2016/04/13/master-bedroom-black-frosted-plum-wall-paint/
City Farmhouse is probably one of the largest home design blogs in the internet currently. The blog comprises of unique photos that showcase the beauty of exclusive house designs. Of particular interest to us about this blog are its unique ideologies on using your feelings, emotions and preferences in designing your home. This in turn results into a customized design with a personal touch.
Our favorite post: http://cityfarmhouse.com/2016/10/diy-abstract-art-using-paint-samples.html
Apartment34 is the best blog to refer to when you want to design your home to resemble your favorite celebrity's home. From landscape design to interior decoration and organizing furniture in the house, this blog provides wonderful tips characterized by creativity, compassion and exclusivity. In this blog, you will learn how to arrange your living space so that it does not look congested and crammed.
Our favorite post: http://apartment34.com/2016/08/elevate-design-with-your-details/
EyeSwoon is a fantastic blog filled with exceptionally looking antiques that are displayed beautifully in a neatly organized fashion. We like this blog for combining both modern and contemporary designs to bring about a uniquely looking appearance. The blog also provides guidelines and instructions on decorating your bathroom for an excellent look.
Our favorite post: http://eye-swoon.com/terrace-entertaining/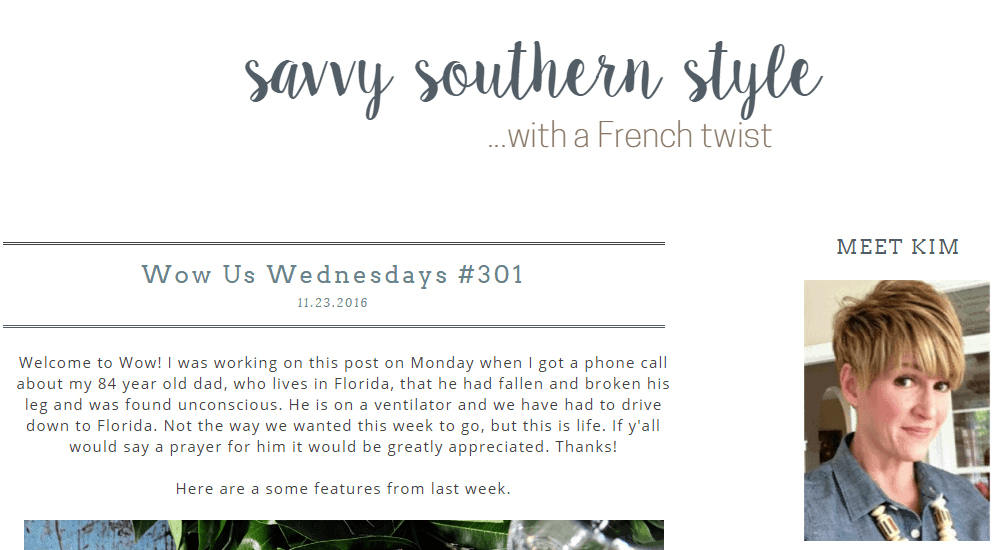 Savvy Southern Style is a top home design blog for all; pro-designers and home owners. The best thing about this blog is that it provides a detailed home design package that touches on designing the kitchen, living space, bedroom, bathroom and outdoor space among other places in the home.
Our favorite post: http://www.savvysouthernstyle.net/2016/11/are-you-afraid-to-mix-patterns.html
A Merry Mishap blog features home design works of prominent designers from across the globe. This blog is one of our favorite design blogs because it pays great attention to the tiny/little designs that characterize classic home designs. The blog stresses on the need for using intriguing colors to highlight the beauty and décor of a design.
Our favorite post: http://www.amerrymishapblog.com/2016/11/laundry-room-renovation-update-giveaway.html
Cote De Texas blends together thrilling home designs with top quality fixtures and furniture for a uniquely looking rustic look. Whether you are preparing for an occasion at home or simply want to remodel your home, this blog is the ultimate site to refer to. The blog is dedicated towards enabling homeowners live comfortably and in style with the best home design.
Our favorite post: https://cotedetexas.blogspot.co.ke/2016/11/design-lesson-proporiton.html
If you are looking for a blog that will have an inspiring impact on your home design and décor preferences, then you should consider checking out the Love Chic Living blog. This incredible blog contains useful decorating ideas and tips to implement when designing your home. The blog will help you create your dream house or apartment effortlessly and affordably.
Our favorite post: http://lovechicliving.co.uk/10-christmas-gifts-for-the-home-lover/
There are not many blogs that trickle our enthusiasm and interest in home design but the Cococozy blog makes it to the several design blogs we like. This blog not only provides ideas and tips on how to design your home but also provides instructions on how to add life to pale looking walls and floors. The blog is arguably one of top sites to seek guidance for all home design and decoration needs.
Our favorite post: http://cococozy.com/living-room-design-this-or-that/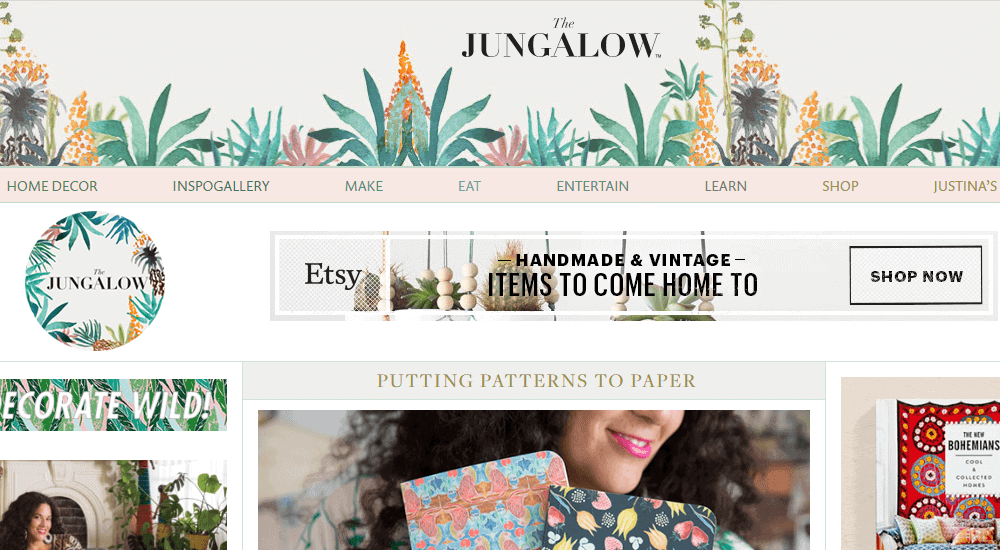 If you are keen on having an exclusively looking design for your home, then you can't afford to ignore the Jungalow blog. The blog boasts of outstanding function friendliness that makes it easy for home owners to get directions and guidance on how to design their homes in the best way possible. The blog stresses on the need of using bowls, and little dolls as interior décor items.
Our favorite post: http://www.thejungalow.com/2016/11/before-after-our-entryways.html
Coco Kelley is a blog by design experts for home designers and homeowners. For tricks on setting up a cozy and inviting home, the Coco Kelley is the blog to follow. The blog has a neatly organized layout that is easy to navigate and move from one section to the other while browsing for tips and ideas.
Our favorite post: http://www.cocokelley.com/2016/11/one-room-challenge-reveal-living-room-makevoer/
Decoholic is the best blog for home makeover tips, information and tricks. There are very few home design blogs that can compete with Decoholic as far as home designs are concerned. For comprehensive designs and demos, the site is the ultimate blog to visit. The blog will help transform your design dreams into a reality.
Our favorite post: http://decoholic.org/2012/02/26/30-dream-interior-design-ideas-for-teenage-girls-rooms/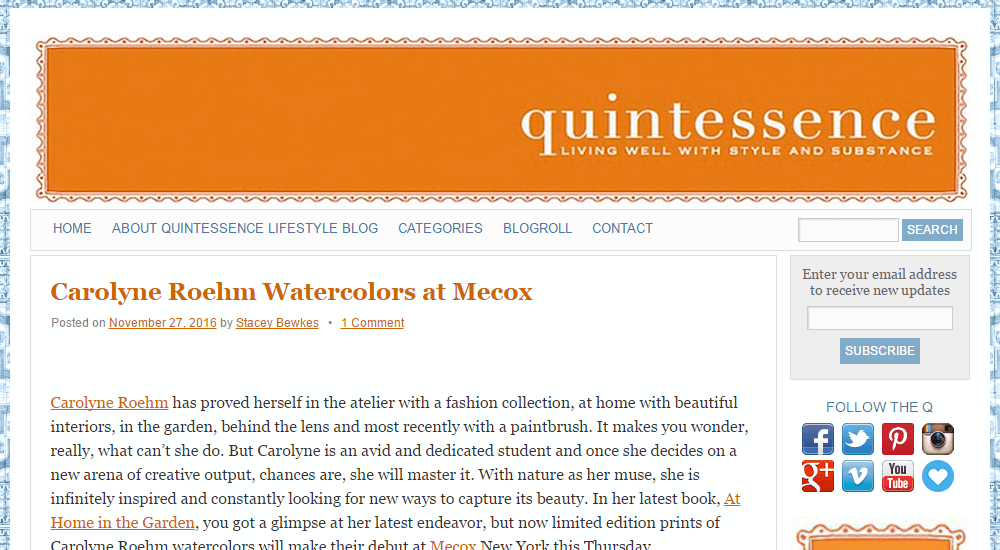 If you have ever visited the Quintessence blog, then you must be aware that it stands for class and style. We like the blog for its fantastic collection of home design models that are a show of elegance, exclusivity, and unrivaled beauty. The blog is unparalleled in its content quality and photo clarity thereby making it an excellent reference point for home design projects.
Our favorite post: https://quintessenceblog.com/home-susanna-salk-katie-ridder-peter-pennoyer/
Every home should look great, neat and with an artistic design. My Sweet Savannah blog provides its readers with a chance to personalize their homes by using custom home designs that fit their preferences and needs. If you are fond of decorating your home and adding exquisite finishing touches to the home, then this is the blog for you.
Our favorite post: http://www.mysweetsavannahblog.com/2016/06/summer-home-tour-part-2.html
If you are into designing homes, then the Habitually Chic blog should be your ultimate partner. With tons of experience and reputation as one of the best home design blogs to follow, the blog has up-to-date content developed by knowledgeable home designers. There are tons of reliable tips that you can use to decorate your home to enhance its elegance.
Our favorite post: http://habituallychic.luxury/2016/11/holiday-house-2016-mens-dressing-room/
If you like spontaneous home designs, then you will surely love the Happy Mundane blog. This blog consists of a series of different home designs and models for use in all home design projects. The layout of the blog employs the use of captivating and user-interactive colors that add onto the attractiveness of the blog.
Our favorite post: http://www.happymundane.com/2016/09/just-a-few-amazing-things-september-2016/
Precariously set in an organizational and professional manner is this one of a kind home design blog; Simply Grove. Owned and operated by award winning architects, the blog prides itself in being one of the best and most comprehensive home design blogs on the internet presently. The blog offers more than just simple home design inspirations.
Our favorite post: http://www.simplygrove.com/style-walls/
There's nothing more exciting and intriguing as a good looking home with fine finishing and high-end fixtures. If it is your dream to own such a home, then you should visit the Kelly Elko blog regularly for daily updates and inspiration on unique home designs. The blog has amazing designs that entail great beauty, purposefulness, and functionality.
Our favorite post: http://www.kellyelko.com/2016/11/danish-modern-media-console/
Wit & Delight is specially designed for homeowners with passion and interest in making their homes look great and outstanding. The blog partners with renowned contractors and builders to create impressive designs on decorating homes. These designs are perfect for seasoned designers as well as first time home owners.
Our favorite post: http://witanddelight.com/2016/08/wd-renovates-ll-bathroom/
Decorating your home can never get any easier with tips from the Decorologist blog. With detailed information on enhancing the décor of your home design right from the entryway to your bedroom, home design is now more effortless than ever before. Read up-to-date posts from home design gurus on the Decorologist, and we're sure you will get satisfied with what you find there.
Our favorite post: http://thedecorologist.com/trendspotting-at-the-southern-living-showcase-house-in-college-grove/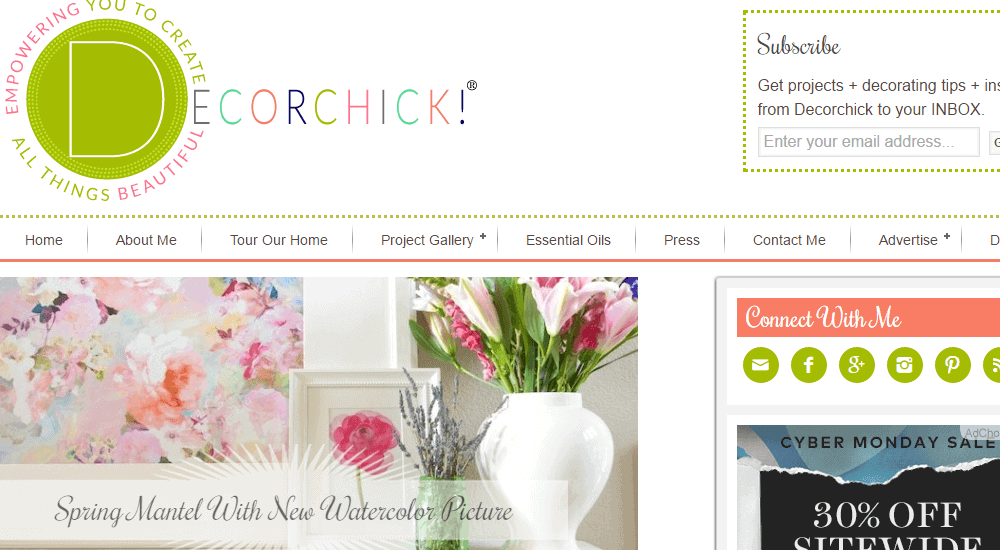 Décor Chick is the top blog for DIY tips and tricks on home design. If you are into landscaping and general outdoor decoration, then you will find this blog quite resourceful. From simple home design tasks such as arranging your backyard to complex ones like a home remodeling project, this blog is bound to have resourceful information for you.
Our favorite post: http://decorchick.com/a-dining-room-turned-office/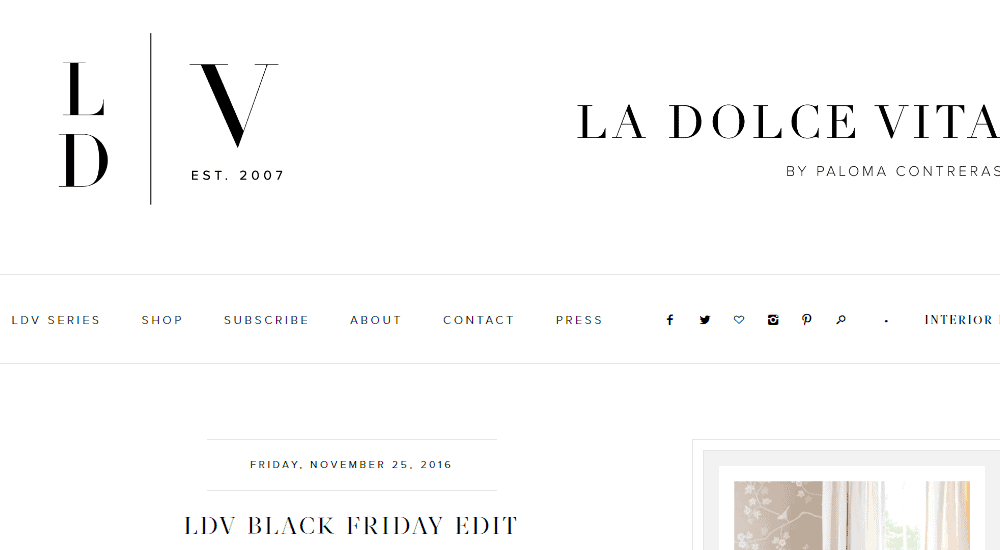 If you are looking for a head start and inspiration on your home design project, then the Ladolce Vita Blog is a great place to start. Spending time on the blog is a worthy experience that is guaranteed to enlighten you on most home design tasks. With this blog, you can add décor and beauty into your home in the best way possible.
Our favorite post: http://www.ladolcevitablog.com/2014/06/11/design-decoded-outdoor-style/
For homeowners who love decorating their homes' exteriors as much as they like revamping the interiors, Emily A. Clark is the best blog for them. The blog has inexpensive ideas on how to decorate and redesign your home without any hassles whatsoever. The designs in the blog come with different unique settings thereby allowing the exclusiveness of all designs.
Our favorite post: ​http://emilyaclark.com/2016/07/if-youre-going-to-buy-one-thing-for-your-walls.html
My Paradissi has a superb reputation for having grand home design ideas that are creatively thought and established. Designing a home no longer needs to be uphill task as you can get the much needed inspiration from this blog right at the comfort of your home. You can use the guidelines in the blog to choose the best designs depending on seasons or festivities throughout the year.
Our favorite post: http://www.myparadissi.com/2013/04/dream-santorini-home.html
The Cocola Pine blog is operated and run by people with vast experience in home design, remodeling and other related tasks. The blog creates a glamorous mix of contemporary designs and modern décor pieces with a glossy black appearance. This results into an amazing space defined by a sparkling style.
Our favorite post: http://cocolapinedesign.com/2016/11/21/stylish-black-white-home/
The Jacquelyn Clark blog is popular for its monochromatic designs that come with fun plaid effects. From the doors to the windows, tiles, and ceiling, the blog has tips on how to create attractive ambience in your home. With these guidelines, it is possible to revamp your home both internally and externally.
Our favorite post: http://www.jacquelynclark.com/2016/10/26/design-mistakes-almost-everyone-makes/
The English Room ranks highly as one of the best and most reliably home design blogs with expert tips, guides, and tutorials on designing home. The blog showcases the beauty of English designs combined with other artistic creations for an overall great looking home. The blog also has suggestions on how to arrange furniture and other home décor items for a more organized look.
Our favorite post: http://www.theenglishroom.biz/2016/07/06/book-review-the-four-elements-of-design-interiors-inspired-by-earth-water-air-and-fire/
The Carla Aston blog is specially designed for novice home designers with very little or no experience in home designs. This is because it has easy to follow guides and step-wise instructions to refer to when designing your home. The blog also has inexpensive and affordable home design suggestions for all home owners and interior designers.
Our favorite post: http://carlaaston.com/designed/10-must-have-decor-for-your-masculine-home-office
Spending time in a net, organized and freshly smelling home is every home owner's dream. Achieve your home design dream today by referring to this exclusive blog- Happy Interior Blog. The blog has inspirations, suggestions and tips sourced from painters, photographers, and ceramicists among other design experts. The best thing about this blog is that it also provides suggestions on how to use creative décor items such as solid wood.
Our favorite post: https://happyinteriorblog.com/2016/11/making-conscious-choices-home.html
If you want to read quite impressive thoughts and ideas on how to personalize your home design, then this is the blog to follow. The blog takes pride in having a limitless collection of amazing ideas and tips on creating rare and uniquely looking home designs. These include designs with grey, moody, and snowy décor effects.
Our favorite post: https://confessionsofadesigngeek.com/2016/10/03/best-london-design-festival-2016/
Manhattan-Nest blog is one of the few online platforms where you get inspirations for creating a happy home through design. The blog has it that inspiration forms the basis of everyday beauty and enthusiasm of home decorations. For advice on how to decorate your home and its exteriors, this is the blog to follow.
Our favorite post: http://manhattan-nest.com/2016/10/31/the-bedroom-has-a-fourth-window/
If you have ever intended to place plants in your living space but do not know how, you need not worry anymore as Reading My Tea-Leaves has all the important details you need to know. The blog also provides expert advice on how to design and decorate your home for all seasons. This seeks to spark life and beauty in your home.
Our favorite post: The entire http://www.readingmytealeaves.com/category/life-in-a-tiny-apartment series
If you want to join elite home designers with superior home designs, you should read My Design Chic blog. Created and run by pro designers, the blog has an amazing collection of rare home designs and décor effects for use by home owners in magnifying the appearance of their homes. This aims at creating a magical living experience at home.
Our favorite post: http://mydesignchic.com/2016/11/pot-rack-nov-17/
Want a sophisticated home design with characteristic looks and features? If yes, look no further than at the Makerista Blog. The blog promotes the need to create elegant homes that are lively and with a welcoming feel and touch. There is no experience that beats the feeling of living in a well set place with a homely feeling.
Our favorite post: http://www.themakerista.com/tips-avoiding-cookie-cutter-new-build/
Want to create a camouflage appearance in your home? If yes, consider following the Katy Elliott blog for pro tips on how to prepare your home for a design face lift. There are tons of ideas, inspirations and suggestions that you can borrow from the blog as far as decorating your home is concerned.
Our favorite post: http://www.katyelliott.com/blog/2012/01/framing-antique-wallpaper-samples.html
Want to have a nice-looking and serene home for the holidays? If yes, you should refer to the Little Green Notebook blog for advice on how to go about such a project. This is bound to make it easy for you to enjoy the holidays by living in a well-lit home with natural light and fresh smell from your backyard.
Our favorite post: http://littlegreennotebook.com/2014/12/gallery-wall-of-mirrors.html/
Decorolgy has dedicated itself to giving home design ideas that rock and set themselves apart from simple design ideas. If you are a choosy home designer with a taste and preference for exceedingly unique home design and décor choices, then you will definitely find the Decorology blog overly useful and reliable.
Our favorite post: http://decorology.blogspot.com/2016/11/stylish-and-colorful-interiors.html
If you are fond of sourcing home designs from allover the world, then the Design Hunter blog is the best bet for you. If you have a decoration and home design plan but do not know how to implement it, then the ideas in this blog will be of great use and genuine help to you.
Our favorite post: http://www.designhunter.co.uk/home/2016/10/27/10-ways-to-embrace-hygge-this-winter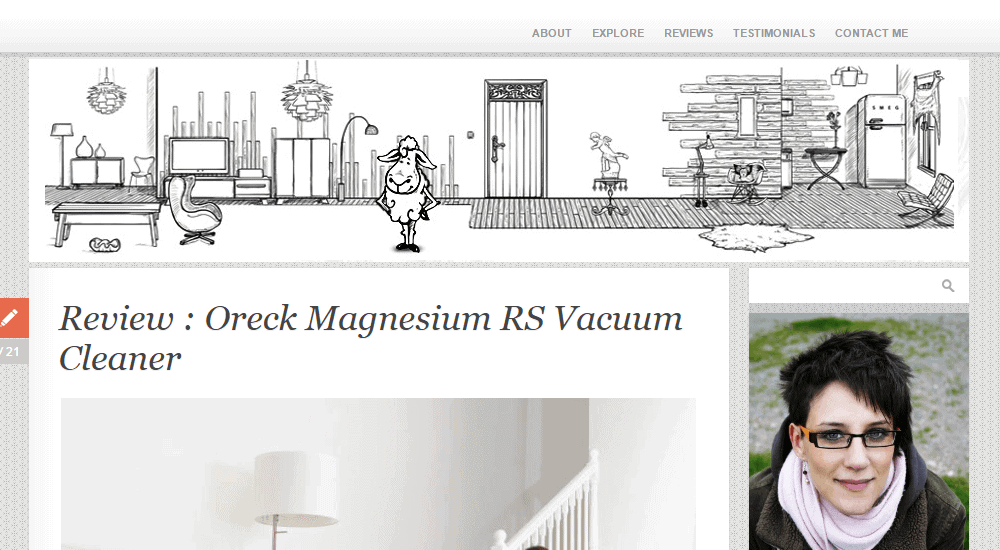 The Design Sheppard is your go-to blog for heavenly advice and reliability on designing and decorating homes and apartments. You no longer need to worry about living in a shady home with poor lighting, free air flow, and undesirable arrangement. The blog is structured to enable home owners to creatively use what their home possessions to decorate their living spaces.
Our favorite post: http://www.thedesignsheppard.com/furniture/making-outdoor-space
54) Sarah from sarahsarna.com
Sarah Sarna blog has a pleasurable approach to home design, decoration, and arrangement of furniture both in the interiors and exteriors of your home. The blog takes a holistic approach to home design whereby it seeks to improve the quality of living in a home by revamping the home wholly. The blog also features other sections such as current fashion trends.
Our favorite post: http://www.sarahsarna.com/thanksgiving-table-setting-ideas/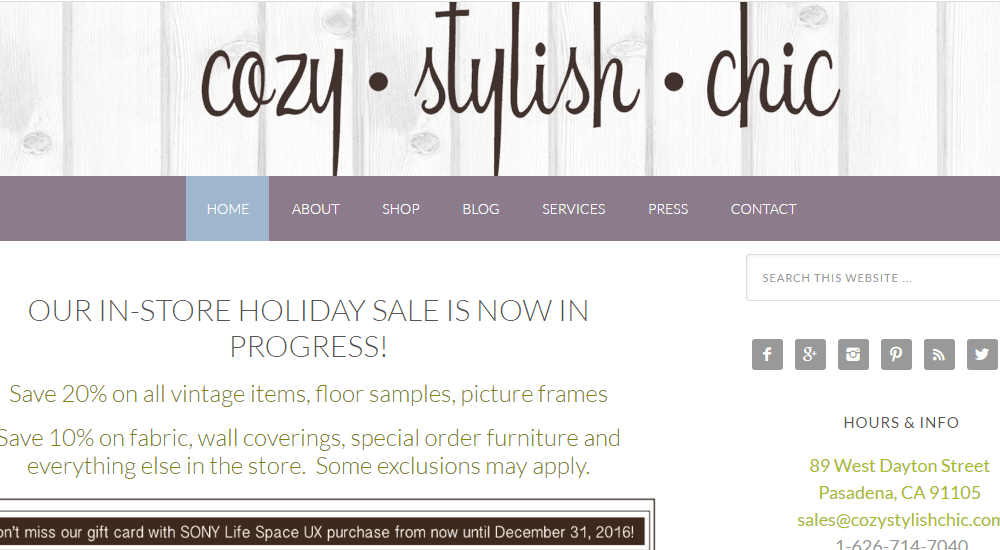 Just like its name suggests, the Cozy Stylish Chic is an online blog that promotes quality living by creating a homey living environment at home. This involves advising home owners on how to use bright colors to decorate their homes. This is because bright colors are overly attractive and create a welcoming environment at home.
Our favorite post: http://www.cozystylishchic.com/2016/02/top-design-trends-ambiente-2016/
According to Savvy Home Blog, you have never lived until you design and build your dream home. From choosing high-end décor items to flexible design plans, the blog provides crucial information that is necessary to follow when designing your home. In addition to this, the blog also highlights some of the best floor types to use in your home.
Our favorite post: http://savvyhomeblog.com/erin-fetherston-cozy-home/
Do you have a desire and interest for home design? If yes, then this is the blog to follow. The best thing about this blog is that it has a great collection of English home designs to choose from. These designs are perfect for most homes as they have universality feature. Ideally, the designs are structured to help you create a home with a difference.
Our favorite post: http://thebeatthatmyheartskipped.co.uk/index.php/2015/02/18/creating-a-warm-family-home-smallable-spring-catalogue/
Are you yearning for utmost awesomeness in your home? If yes, Because It's Awesome is the perfect blog for you to follow. The blog is popular for its amazingly unique designs that promote comfort and luxury in homes. The blog enjoys massive success and reputation from millions of loyal followers across the globe.
Our favorite post: http://becauseitsawesome.blogspot.com/2015/11/a-simple-and-chic-friendsgiving-table.html
Old Brand New is a platform where design pros and gurus interact with homeowners wishing to improve the quality, appearance, and feel of their homes. There are very many design plans that are structured for developing a happy and lively home with utmost comfort and relaxation. The blog partners with different home item manufacturers to present top quality items to homeowners.
Our favorite post: http://www.oldbrandnew.com/blog/2015/8/bedroom-blues-with-rugs-direct
Mcgrath2 is one of the few home design blogs that provide everyday inspiration for decorating and designing homes with outstanding features and qualities. The blog is very amazing especially due to its well detailed layout that highlights all the sections and categories to browse in the blog.
Our favorite post: http://blog.mcgrath2.com/2015/07/kitchen-renovation-101-pendant-lighting/
Karine Candice Kong is a top home design that sparks enthusiasm and interest in homeowners of all kind; the poor and the rich alike. The blog provides a great slice of design ideas and approaches that are both achievable and affordable to all homeowners. The blog emphasis that homeowners need not spend too much money in designing and decorating your home.
Our favorite post: http://karinecandicekong.com/2016/09/how-to-get-the-look-a-beautiful-white-apartment-with-natural-accents/
If you have ever had the pleasure of attending a home design and décor event, then you must be aware of the importance of using exceedingly great designs in decorating your home. The ideas on this blog are sourced from knowledgeable and experienced artists with amazing exposure to different home design and remodeling projects.
Our favorite post: http://janellemccullochlibraryofdesign.blogspot.com/2016/11/thin-places-gardens-spaces-books-and.html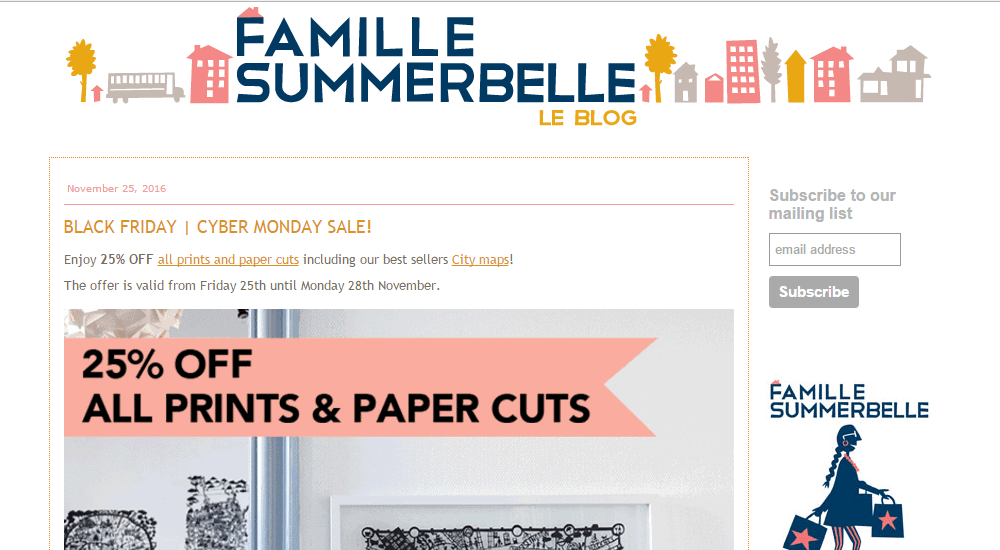 Are you looking for French, English, and American home designs all at one place? If yes, then the Famille Summer Belle blog is ultimate resource blog to turn to. The blog has a rare collection of fancy contemporary blogs for all types of homes and apartment. The blog is dedicated towards making homeowners live in utmost comfort and luxury.
Our favorite post: http://famillesummerbelle.typepad.com/fsblog/2016/05/tidy-up-your-room-1.html
Curious Details blog boasts of a continental dominance in professional home design and décor. This blog is run, operated and managed by experts who have spent much of their time in planning and undertaking home designs. The blog is quite lively as posted content is up-to-date with the emerging trends in home design.
Our favorite post: http://www.curiousdetails.com/blog/2016/10/2/clarke-residence
If you have made a decision to embark on a face lift project of your home, then you will find Interiors by Jacquin blog been of reliable help to you. The content on this blog is professionally designed and has a unique layout that makes it easy to navigate and explore all the sections of the blog. It is worth noting that the blog uses simple language that makes the content in the blog easily understandable.
Our favorite post: http://interiorsbyjacquin.blogspot.com/2016/11/5-makers-of-hand-painted-wallpaper-for.html
Wrapping up
​There you have it. A big list of 65 best home design blogs and bloggers for your own inspiration. We're sure they will bring you new ideas for your next home remodeling projects.
Did we miss out others?
Please let us know in the comment section.
Have a nice day.